2023 In-Demand Careers
THIS GUIDE IS NO LONGER ACTIVE. For the current FP Guide, click here.
Program Focuses on Global Economic Interactions as a Means to Peace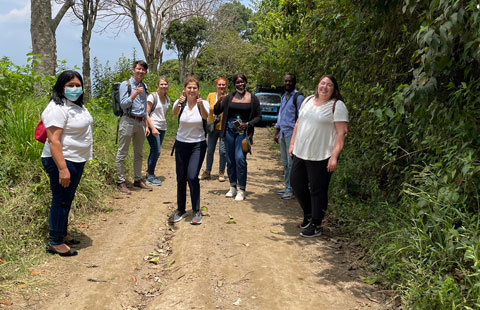 Some students contemplating an international affairs career may consider the Russia-Ukraine war and think that transporting weapons is a key topic. However, trade between countries and global flows of money and workers are far more constant and durable areas of international relations. For that reason, studying economic issues should be a more important part of an international affairs education.  
The Bush School of Government & Public Service at Texas A&M University offers a track in International Development and Economic Policy (IDEP) that focuses on those foundational economic relationships.
"It may not seem like the sexy subject, but putting aside Ukraine, events like inter-state conflict and civil wars are declining in the international system," says David Bearce, professor and head of the International Affairs Department at the Bush School. "More and more global interactions are economic in nature."
Furthermore, most of the economic dealings tend to be among the friendlier dimensions of international affairs, Bearce says. For instance, consider the relationship between the world's two largest economies: US consumers want to buy cheap goods, which China produces. Chinese companies want to sell. To encourage American purchases, China's government buys US debt to keep its currency undervalued so that Chinese exports become less expensive to American consumers.
In another example, workers in Central America want jobs in the United States. When allowed to enter, these immigrant workers send money back home to their families, which helps their country's economy grow. Eventually, these capital inflows help its citizens buy more US goods and services.
The Bush School's International Affairs Department recently hired five new faculty members–experts in growth and inequality, environmental development, foreign aid, immigration policy, trade policy, and currency policy–to expand its IDEP track.
Candidates for the Master of International Affairs (MIA) degree choose between two tracks: either National Security and Diplomacy (NSD) or International Development and Economic Policy (IDEP). They must pick two concentrations from more than a dozen offered within these tracks and complete at least three courses in each chosen concentration.
Additionally, the Bush School offers generous scholarships, and all students pay in-state tuition rates for the two-year degree, making it highly affordable, Bearce says.
Graduates often land jobs in the US federal government, including with the US Agency for International Development (USAID) and the International Trade Commission. Others have been hired by the World Bank Group and the International Monetary Fund. Bush School faculty include a former US ambassador, former staff of the World Bank Group and Central Intelligence Agency, and former USAID Administrator Andrew Natsios.
Texas A&M University, The Bush School of Government & Public Service
https://bush.tamu.edu
bushschooladmissions@tamu.edu
979-862-3476