2020 Launching a Career in International Affairs
THIS GUIDE IS NO LONGER ACTIVE. For the current FP Guide, click here.
George Mason University, Schar School of Policy and Government
Public Policy School Takes the Long View of International Affairs

While the new coronavirus and its international ramifications top today's headlines, George Mason University's Schar School of Policy and Government is teaching its students to have a longer-term perspective about global affairs—to be ready for competition in the job market.
"Work in the field of international security requires a strategic outlook. Our government is going to need expertise in China, Russia, globalization and global supply chains, and transnational threats. There are so many issues out there that will require long-term investment in knowledge," says Ellen Laipson, director of the Schar School's Master's in International Security. Laipson has 25 years of government experience and was president of the Stimson Center.
Schar School faculty members are internationally recognized for their scholarship, practical experience, and advisory roles in the public and private sectors. Notable faculty members include:
General (Ret.) Michael Hayden, former director of the Central Intelligence Agency (CIA) and National Security Agency (NSA)
Retired Ambassador Richard Kauzlarich, who served in Bosnia and Herzegovina and in Azerbaijan
Gregory Koblentz, a member of the Scientists Working Group on Biological and Chemical Security and director of the Schar School's Master's in Biodefense program
In addition to knowledge about threats from potential geopolitical competitors—such as China and Russia—and the powerful global impact of climate change, future jobs in international affairs also will demand expertise in issues where economics and security intersect, such as drugs, illicit finance, and human trafficking. These topics are the focus of the Schar School's Terrorism, Transnational Crime and Corruption Center (TraCCC), run by Professor Louise Shelley.
"The nontraditional issues also will define the winners and the losers in the world," says Laipson. "There will be a demand for very diverse areas of expertise in the field of international security."
As a public policy hub in the Washington, DC, area, the Schar School aims to produce graduates who are prepared for a wide range of careers in public and private institutions. All of its programs require some training in data, Laipson says. "We are training students to use data analytic tools and to work in integrated, cross-disciplinary teams."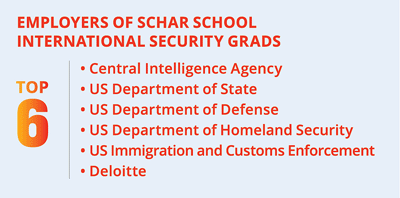 Among recent Master's in International Security graduates, two-thirds work in the US federal government and one-third in the private sector, primarily with consulting firms.
Students searching for internships and jobs can access the Schar School's network of more than 16,000 alumni and the George Mason network of 168,000 alumni, 63 percent of whom live in the Washington, DC, area.
Career Services
https://schar.gmu.edu/career
Contact
Schar School Admissions: https://schar.gmu.edu/contact-admissions
schar@gmu.edu
703-993-8099