2020 Launching a Career in International Affairs
THIS GUIDE IS NO LONGER ACTIVE. For the current FP Guide, click here.
University of Notre Dame, Keough School of Global Affairs
School Gives Students Broad-Based Skills to Tackle Global Problems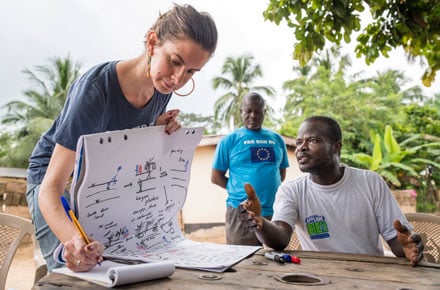 In a world lurching from crisis to crisis, the University of Notre Dame's Keough School of Global Affairs welds the work of several disciplines into a seamless program designed to give graduates the ability to confront global problems.
Retired Ambassador Susan D. Page embodies that approach. The first US ambassador to the world's newest country, the Republic of South Sudan, Page is now a visiting professor of the practice at the Keough School. During a break while serving as an international observer of the 2020 elections in Guyana for The Carter Center, she explains that modern international affairs professionals require broad-based skills.
"Communication skills are essential, both written and oral," Page says. "You need to listen and have empathy. Certainly, conflict resolution is one skill—not necessarily on a big scale, like ending a war, but you have to contend with lots of little fires everywhere."
To develop these skills, Keough School students are trained to know more than how to be a political or economic officer for the US State Department. "We need people with a broad understanding of the reasons people go into conflict," Page says. "Things like land resources or water resources—all those kinds of specialties that I don't think people used to have real expertise in. There is more need for cross-fertilization. There is more need for people with an understanding of sociology and anthropology, plus political science—not just theory, but practice."
The Keough School practices what Page preaches, as students gain experience through the Keough School Integration Lab's interdisciplinary engagements worldwide. Students have gone overseas for fieldwork on a range of projects, from helping to improve housing markets in India and Mexico to enhancing school performance in Chile. "It's one way of getting practical experience on the ground in another country," Page explains. "It's very cool."
Students interested in an international affairs career should not be dissuaded by the US government's recent retreat from the world stage, Page says. "At the end of the day, no matter what, this world is interconnected through media, through telecommunications, even viruses," she says. "We cannot escape that."
Within six months of graduation, nearly all of the Keough School's 2019 Master of Global Affairs graduates had found employment, in various sectors. Slightly more than one-third work for nonprofits or nongovernmental organizations (NGOs) that operate internationally, and another one-third work for nonprofits/NGOs that operate at the national or local level. About 14 percent are continuing their graduate studies, and the remainder work in the private or public sector.
Career Services
http://bit.ly/38IpEAx
Contact
https://keough.nd.edu/master-of-global-affairs/apply
keough-admissions@nd.edu
574-631-3426