2020 Launching a Career in International Affairs
THIS GUIDE IS NO LONGER ACTIVE. For the current FP Guide, click here.
University of Denver, Josef Korbel School of International Studies
Revitalized Public Policy Program Marries Local and Global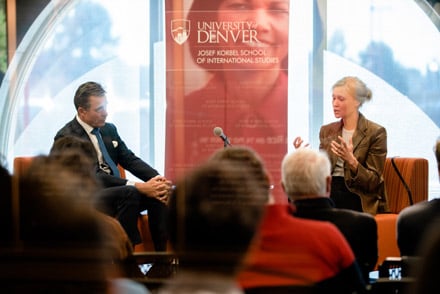 The Master of Public Policy Program (MPP) at the University of Denver's Josef Korbel School of International Studies aims to produce graduates who understand the best solutions around the globe to problems such as economic inequality and lack of sustainability.
"It's not enough to just understand what's happening in Denver," says Dean Frederick "Fritz" Mayer. "We want students to understand what's happening elsewhere in the world. The world is connected. You can't just think locally."
The Korbel School now offers a public policy program. The new Scrivner Institute of Public Policy is part of sweeping changes to the MPP program.
The Korbel School also has reduced its price and, in addition to a traditional program, is offering an accelerated MPP option, enabling those who want to finish faster to jump back into the workforce, Mayer says. "We don't want our students leaving with enormous debt. We want our students to pursue the careers they want."
The MPP program changes, which will debut this fall, include a new focus on skills and experiential learning. For example, the school is adding for-credit workshops in relevant topics such as advanced Microsoft Excel, data visualization, and Python coding. "We are really thinking hard in the curriculum about practical skills that will serve a student well over a lifetime, over a career," Mayer says.
New courses include an ethics class and experiential learning opportunities, such as a laboratory class where students work in teams with a client to solve a problem, Mayer says. "This is great practical experience for the students—having to understand the messiness of problems in the world and balancing the client's interests against their own sense of what the client needs."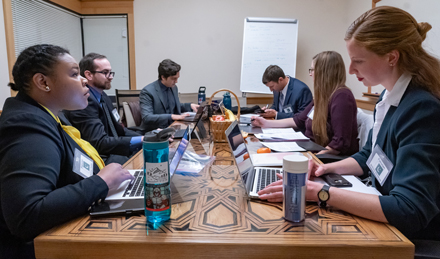 In addition to helping with résumés and interview techniques, the career services staff connects students with alumni in the fields they are interested in pursuing. The school is small enough to make that a tailored experience, Mayer says.
The school also focuses on areas with growing job demand, such as working for local governments (both in the United States and abroad), consulting for national governments, and public-private interfaces such as impact investing and corporate social responsibility.
The new graduates will be ready to take on the world. "They are clear thinkers," Mayer says. "They are creative about how they approach a problem." 
Of the school's 2018 graduates, 93 percent were either employed, in school, or in the military or another service-oriented organization, such as the Peace Corps, within 12 months of graduation.
Career Services
https://korbel.du.edu/careers-alumni/career-services
Contact
Josef Korbel School Admissions: https://korbel.du.edu/admission
korbeladm@du.edu
303-871-2324