Graduate Programs for Aspiring Global Leaders
Fully Funded Fieldwork Experiences for Aspiring Change Makers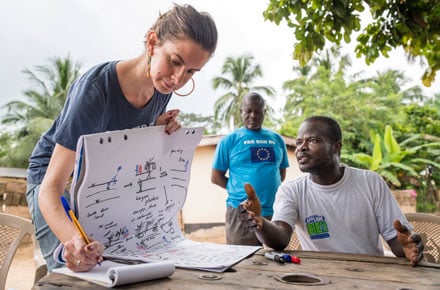 Fieldwork experience is an integral component of global affairs study, allowing students to connect classroom-acquired skills and knowledge with on-the-ground realities.
While most schools have fieldwork as part of their curriculum, the responsibility of finding an opportunity and funding it often falls on the student. "One of our program's biggest defining features is a fully funded field experience for all our students," says Bill Goldberg, program director for the Master of Global Affairs at the Keough School of Global Affairs at the University of Notre Dame.
Depending on their area of concentration—sustainable development, governance and policy, or international peace studies—students can spend up to six months in the field, working in multiple countries on group and individual projects. Support includes a living stipend, lodging and transportation costs, preparation and debriefing sessions, and placement with national and international partner organizations, such as Oxfam, Catholic Relief Services, Habitat for Humanity, Search for Common Ground, and World Hunger Relief, Inc.
"We want our students to concentrate on the field experience because that's what's really important," Goldberg explains. "Finding a job that pays—and where students are not just interns making copies and getting coffee but working on real projects and getting tangible field experience skills—is difficult without the connections and help that we have to offer here."
The school's funding stream runs deep. "We have a lot of generous donors who support our mission of making the world a better place so we can help the majority of our students," Goldberg says. "This coming year, 90 percent of all students' tuition costs and 50 percent of their living costs are covered by merit-based scholarships and fellowships." For students who have their eye on the nation's capital, the school also offers a fully funded immersion experience at its DC office to network with alumni and various local organizations.
Making education accessible aligns with the school's overarching embrace of integral human development, acknowledging and respecting its students' and staff's complex cultural, economic, political, social, and spiritual backgrounds. In fact, the Keough School has the university's most diverse student body, represented by more than 20 countries and numerous languages. Thus, applicants should have an appreciation for different cultures and perspectives and possess strong teamwork skills, in addition to some previous field experience. "The application isn't the place to be humble, so hit the high points of your experiences," Goldberg advises.
---
Personalized Support and Networking Opportunities Position Students for Success

The Keough School is dedicated to providing personalized support to each student, helping them make the most of the resources, networks, and opportunities available through the program and at Notre Dame. The school takes pride in fostering connections, offering guidance, and instilling confidence in students as they strive to achieve their professional aspirations. Students have the opportunity to attend career fairs, employer information sessions, one-on-one career counseling, and tailored workshops that equip them with essential skills for navigating the job market.


>>>

Furthermore, graduates can tap into Notre Dame's extensive alumni association network, which stands as a testament to the loyalty and support of its members. The association facilitates connections through clubs, online platforms, and on-campus events, ensuring ongoing support and networking opportunities for both current students and alumni.
---
University of Notre Dame, Keough School of Global Affairs
https://keough.nd.edu
keough-admissions@nd.edu
574-631-3426