Graduate Programs for Aspiring Global Leaders
Skill-Based Global Experiences for Real-World Solutions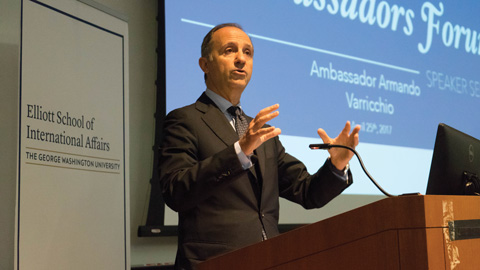 Reflecting on his graduate school days, Samuel T. Ledermann, assistant professor of the practice of international affairs and director of the global capstone at George Washington University's Elliott School of International Affairs, describes a pivotal frustration: "I was really good at critiquing things, but I didn't have the skill set needed to do the work to improve the world or address global problems." His pursuit of tangible solutions led him to the Elliott School, renowned for its leadership in professional international affairs education and resolute commitment to offering students a comprehensive curriculum that balances theory, policy, and hands-on practice.
The Elliott School's signature Global Capstone project is an embodiment of the institution's experiential learning approach to international studies. Students participate in pro bono consultancy, working with self-selected clients on issues close to their hearts. Students can also tap into the school's vast alumni network and more than 200 past clients, including the US Department of State, the Center for Strategic and International Studies, the World Bank, and nongovernmental organizations. Ledermann adds, "People still reach out to us as clients or new clients and explicitly say, 'We heard about Capstone, and we want to work with you.'"
Spanning two semesters, the project starts with concentration-specific policy research and analysis, leveraging the school's diverse expertise. Students identify the unique needs of their clients, negotiating and shaping agreements that will guide their work. International field research trips are also conducted before students formulate actionable recommendations that address their client's specific needs.
Beyond the immediate experience, Ledermann says students learn valuable lessons about teamwork, resilience, and adaptability. This translates to a high demand for Elliott School graduates; the International Development Studies program, where Ledermann is a core faculty member, boasts a 100 percent hiring rate in its most recent cohort. The curriculum further enriches students' workforce readiness with a long list of professional skills courses informed by employers in the field, including general proficiencies, like international affairs writing and negotiation, and specialized abilities, such as embassy work.
Because Elliott School graduates are well positioned to land leadership roles addressing global challenges, the admissions office wants to see a compelling narrative about how candidates plan to use their acquired knowledge and skills to make meaningful contributions in the field of international affairs. For recommendation letters, Ledermann suggests "finding people who actually understand you and your passions the most."
---

Lifelong Support Empowers Graduates at Every Career Stage
The Elliott School organizes more than 300 events and panels annually, often allowing students to connect with potential employers across sectors and fields. The Graduate Student Services team offers specialized support, including mock interviews, cover letter reviews, employer site visits, and individual career coaching.
>>>

Flexible programming enables students to balance daytime work or internships with evening studies, capitalizing on the downtown DC location for real-world application of classroom learning.
>>>

The school's global alumni network hosts events worldwide, while actively advising and mentoring students in Washington, DC. The online career database, Handshake, provides access to job and internship listings from more than 9,000 employers. Alumni retain lifelong access to all resources, ensuring continual assistance during career transitions.
---
George Washington University, Elliott School of International Affairs
https://elliott.gwu.edu/graduate-admissions
esiagrad@gwu.edu
202-994-7050