Graduate Programs for Aspiring Global Leaders
Getting Students Behind the Closed Doors of International Affairs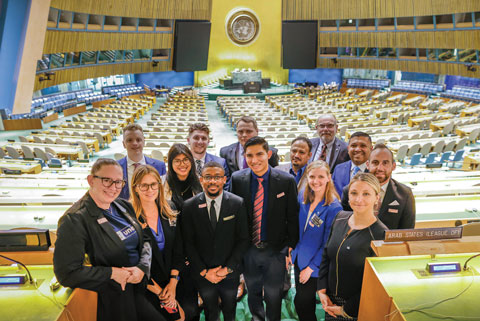 A large part of international agreements, policies, and deals takes place behind closed doors. One recent example is Turkey's surprise announcement to drop its long-standing opposition to Sweden joining the North Atlantic Treaty Organization (NATO).
"In order for students to really understand—as opposed to read about—how agreements happen, they've got to talk to people who were in the room," says Courtney Smith, dean of Seton Hall University's School of Diplomacy and International Relations.
The school's close proximity to and partnership with the United Nations (UN) grants students exclusive access to individuals who are at the very center of global policymaking. The goal is to provide students with insight into and experience with international activity and processes, as well as to build bridges to the UN community in New York and beyond, including the United Nations Foundation, United Nations Academic Impact, and United Nations Economic and Social Council. "Our students are actually experiencing diplomacy while they're studying," Smith explains.
The UN has proven to be an excellent experiential learning laboratory for students, Smith says. It's provided the opportunity for on-site classes, year-round internships, UN diplomats and staff members to teach courses, and on-campus events with high-ranking officials, which have included secretaries general, US ambassadors to the UN, and presidents of the General Assembly. Smith adds, "The UN is unique among international organizations because it's broad in both membership and issue focus. Whatever interest or career path a student may have, whatever problem they want to help fix, it's probably somewhere on the UN's agenda. It gives them a lot of flexibility, whether they're ultimately interested in [working for] the UN or not."
Seton Hall University's mission is to develop servant leaders for a global society. An ideal candidate for the School of Diplomacy's graduate and dual-degree programs (available on campus and online) will need to demonstrate an interest and passion for international affairs that go beyond personal career goals. The admissions office looks for a compelling narrative that shows a commitment to using the skills, knowledge, and experiences gained at the school to make a difference in the world, whether in the public, private, or nonprofit sectors. "Most applicants are good at telling committees, 'This is why I want to study with you,' but they should convince us that they're going to be ready to work for real change," Smith advises.
---
Empowering Students with Expert Career Support

The School of Diplomacy and International Relations provides comprehensive career support services to both students and alumni, ensuring they find purposeful employment opportunities post-graduation. The school's dedicated Office of Internships and Career Development offers personalized career counseling, workshops on resume writing, mock interviews, and job search strategies.
>>>

Working in collaboration with the university's Career Center, the school organizes networking events and an annual Career Fair that connects students with potential employers. Students can likewise benefit from valuable networking opportunities within their field through the school's alumni association. Diplomacy-related job opportunities can also be accessed through the College Central Network.
>>>
To further enhance students' professional development and networking capabilities, the school plans to introduce additional networking and mentoring programs in the 2023-2024 academic year.
---
Seton Hall University, School of Diplomacy and International Relations
https://www.shu.edu/diplomacy
diplomat@shu.edu
973-275-2515