Graduate Programs for Aspiring Global Leaders
Individually Tailored Academics with Deep Involvement Globally and in Washington, DC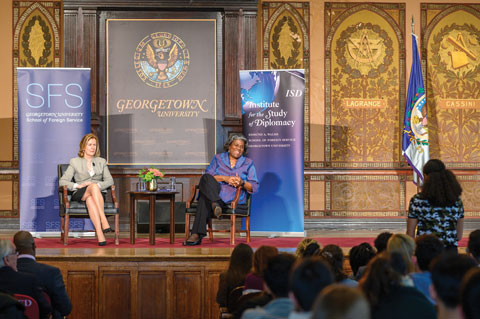 At Georgetown University's School of Foreign Service (SFS), there's no one set type of successful applicant or student. Instead, the SFS offers programming individually tailored to the needs, interests, and aspirations of those who want to make an impact on the world.
"We don't believe there is a single 'right' or 'cookie-cutter' SFS student," says Matthew Carnes, associate professor at the School of Foreign Service. "We want to work with each student to unleash their unique potential."
To do so, the SFS offers a varied set of eight graduate programs, spanning diplomacy, security, and global human development. Over the course of the coming year, the SFS will begin to offer two new graduate programs: one in international migration and another in environmental and international affairs.
Carnes says that applicants need not feel overwhelmed by such options: "We have dedicated admissions staff in each program who work one-on-one with potential students to identify the best programmatic fit at the SFS."
Finding a programmatic fit is step one of aligning with a students' needs, interests, and career objectives. Next is the SFS's dedicated faculty and staff in and out of the classroom, as well as robust leadership, internship, and capstone requirements in which students work with clients in the field. "This provides them experience in their chosen field before they graduate," Carnes notes.
The SFS is committed to a diverse student body and tailored experience for each individual, but it also naturally attracts applicants with an interest in global experiences and studying in Washington, DC.
"Global experiences are the cornerstone of the SFS experience," Carnes says. "Students use their summer experiences to gain important international experiences, brush up on their foreign language skills and make unforgettable memories to share with classmates when they return to campus."
When the academic year is in session, SFS students aren't sequestered on campus. "Georgetown's location and convening power mean that our students engage directly with international leaders, activists, and scholars," Carnes says. "Students intern during the semester at organizations such as the Department of Defense, USAID, the State Department, multilateral institutions, intelligence agencies, news and media outlets, corporate banks, research and policy centers, and numerous other relevant employers. The Georgetown name stands out locally and globally."
---

Lifetime Support and Real-World Experiences Lead to Post-Graduate Success
At the SFS, support for post-graduate life is provided both during and after students' time on campus.
>>>

SFS students benefit from Georgetown's Washington, DC, location and can intern and make contacts at organizations across the nation's capital. The SFS prioritizes internships, assisting with placements and helping to fund unpaid and low-paid opportunities. Capstones are often done through fieldwork with international organizations and other partners, and students engage with SFS alumni at Jumpstart January, an annual two-week event that is dedicated to networking and professional development.
>>>

Upon leaving Georgetown, graduates enjoy lifetime access to the career center and can subscribe to a weekly career bulletin. One piece of exceptionally good news from a recent bulletin: 2022 SFS graduates enjoyed a 98.43 percent job placement rate.
---
Georgetown University, School of Foreign Service
https://sfs.georgetown.edu/academics/graduate
sfsgrad@georgetown.edu
202-687-5696