Graduate Programs for Aspiring Global Leaders
'Studying With Purpose' in a Practical International Relations Program

The Master of Arts in International Relations at Johns Hopkins University's School of Advanced International Studies (SAIS) is a very customizable program. From economics to climate sustainability to security, students can design their program to reflect the global challenges they are most passionate about.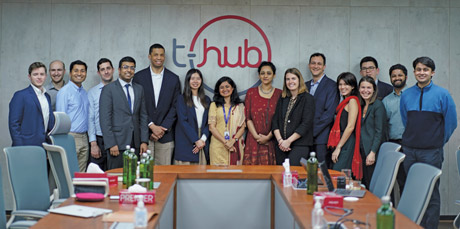 "It is very much a practitioner's master's degree with a lot of flexibility," says Director of Admissions Richard O'Rourke.
The traditional two-year program focuses on core courses in the first year, or what O'Rourke calls "the essential skills that every international relations practitioner needs and what employers are looking for." In the second year, students choose a functional and regional focus area to build their expertise. In the end, no two students at Johns Hopkins SAIS wind up with an identical curriculum.
"Our guiding principle, which drives our culture, is the idea of studying with purpose," O'Rourke says. "Students who have a passion for international affairs and a commitment to making a positive impact on the world are the ones who are more successful during the admissions process."
The flexibility in the Master of Arts in International Relations extends to a capstone course, which allows students wide latitude to choose an experience that applies directly to their career focus. They may work on real-world issues with an external client organization or embark on study treks to hone on-the-ground research skills and gain new perspectives on global issues. "Getting students hands-on experience in real-life scenarios … to give them real-world experience before they graduate is an integral part of the experience at Johns Hopkins SAIS," O'Rourke says.
SAIS has campuses in Washington, DC; Bologna, Italy; and Nanjing, China. Just as the school's master's program is versatile, so too is the location where graduate students can study. For example, a student based in Washington, DC, can complete a certificate in China while making progress toward their master's degree. Or a student could spend their first year in Italy and the second in Washington, DC, where the campus is moving to a new building on Pennsylvania Avenue, just blocks from the US Capitol.
The average student is 25 years old, with two years of professional experience, and more than 40 percent come from outside the United States. Accordingly, the school matches current students with an alumnus in their functional and regional focus areas to offer career guidance and mentoring during their studies.
---
SAIS' New Home Provides Unique Student Experiences and Learning Opportunities

In fall 2023, Johns Hopkins SAIS will welcome students to its new home at 555 Pennsylvania Avenue NW in Washington, DC. This state-of-the-art facility expands the school's capacity for both teaching excellence and evidence-based research toward addressing global challenges. The building is minutes from the US Capitol, the White House, and Union Station
.
>>>
Designed to foster community and collaboration, SAIS' new home boasts 38 high-tech classrooms, a 375-seat theater and performing arts space, group and individual study spaces, lounges, and roof terraces with views of Pennsylvania Avenue and the Capitol. Student amenities include a library, coffee shop, restaurant, and fitness center. Event spaces will host prominent policymakers and global leaders. Other divisions of Johns Hopkins University will also have a presence in the building, providing unmatched opportunities for interdisciplinary collaboration.
---
Johns Hopkins University School of Advanced International Studies
https://sais.jhu.edu
sais.dc.admissions@jhu.edu
202-663-5700