Graduate Programs for Aspiring Global Leaders
Structured Flexibility Lets Students Craft Their Unique Story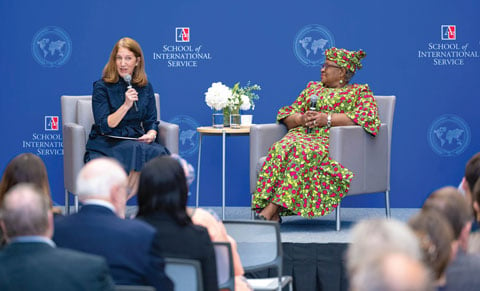 Graduates from American University's School of International Service (SIS) work across all areas of international relations—in private corporations, government agencies, and international nongovernmental organizations—but what they have in common is an interest in serving the global community and a sense of purpose carefully crafted through their graduate studies.
"We encourage our students to think not only about their degree, but about how their academic training applies to a greater need in the world," says Senior Director of Graduate Enrollment Management Jia Jiang. "Successful applicants know what they want to study and why they want to study it."
The school offers what Jiang calls "structured flexibility," which is designed to give each student a core set of principles and skills while allowing them to tailor the curriculum to match the story they endeavor to create through their work, career path, and personal life.
Students can enroll in courses from any of the SIS master's degree programs to customize their graduate experience to their interests. One student might want to study peace and conflict resolution through the lens of natural resources. Another might choose to specialize in communications for international development in a particular region. Each degree becomes a statement of the student's personal goals and intentions.
The new dean of SIS, Shannon Hader, is also renewing the school's founding principle of "waging peace" by building new partnerships. The former assistant secretary-general of the United Nations knows the importance of giving a wide range of voices a seat at the table.
For example, SIS has joined an existing partnership between the United States Institute of Peace and Black Professionals in International Affairs. This program supports students who may not have easy access to mentors in the peace-building field, including students of color, first-generation college graduates, and individuals who are the first in their family to pursue a career in international affairs. American University is also the first university to offer a renewable funding match for Tillman Scholars, who are exceptional military service members chosen by the Pat Tillman Foundation.
"Both partnerships speak to our core values of diversity, equity, and inclusion," Jiang explains. "We want to represent students from across the spectrum and create access and opportunities they may not otherwise have so they can better represent and serve our global community."
---

A Commitment to Lifelong Learning
The flexibility offered by the School of International Service extends far beyond graduation day. The program intentionally cultivates a lifelong learning frame of mind among its students with career services available starting from their first day on campus to well into their career.
>>>

Before graduation, SIS students can apply for an alumni mentorship program. It provides a full year of mentorship with an SIS alumnus who can share the finer points of working in the student's chosen field and connect them with people who can help them take the next step.
>>>

After graduation, SIS alumni have access to AU's career services and reduced prices on academic courses. It's AU's commitment to making sure alumni can rely on their alma mater for lifelong learning opportunities.
---
American University, School of International Service
https://www.american.edu/sis
sisgrad@american.edu
202-885-1600