2017 Graduate Education | International Affairs
THIS GUIDE IS NO LONGER ACTIVE. For the current FP Guide, click here.
Georgetown University, Walsh School of Foreign Service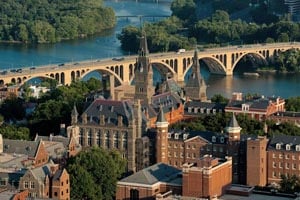 Georgetown University's Walsh School of Foreign Service (SFS) was founded nearly a century ago to help understand and shape the new world order in the wake of World War I. Now, current events signal yet another extraordinary global reordering, observes the school's dean, Joel Hellman. He says SFS "is at ground zero" for students who want to be at the front lines of influencing how these events will play out.
"We're taking on the challenge of how to address the most contentious issues and bringing that into our curriculum," Hellman says. That means rethinking standard alliances, the role of globalization, multilateralism and trade, the increasing dynamics of national identity, and more. "There are many things that were missed about the momentum and implications of globalization that we now need to think about and debate," he adds.
SFS students are also examining recent shifts in traditional diplomacy and intelligence gathering, and even the new forms of engagement between political leaders and their constituencies.
There had been fears, Hellman admits, that there might be a turning away from international affairs programs, especially as people question the values associated with globalism. But the opposite has happened, he says. "We've seen a greater sense of commitment to understanding global affairs and a greater number of applications to our programs. People are even more impassioned about gaining experience in order to defend these values."
Hellman says the fact that SFS is located in Washington, D.C.—"just an Uber ride away from the decision makers," as he puts it—is a huge draw. It gives students possibilities that they won't find anywhere else, including a wealth of internship opportunities throughout the year and the chance to engage with key policymakers who visit the school. "As America rethinks its place in the world, we are having these debates right here on campus with the people involved in making these decisions," says Hellman.
SFS was founded on a commitment to service, not just as a career path, but also as an approach to solving problems in both the public and private sector. The school also emphasizes cross-cultural understanding and empathy. Those qualities are among its core values, and SFS looks for them in the work experience that students bring to the table.
As the country's oldest, most renowned international affairs school, SFS takes an interdisciplinary approach that combines cutting-edge research with hard-nosed practical knowledge. Its faculty members include leading scholars in political science, history, economics and cultural affairs, as well as high-profile diplomats and policymakers with deep experience in international diplomacy, business, and the nonprofit sector.
SFS offers eight master's degree programs and a joint master's degree with Georgetown University's McDonough School of Business. Students can also earn a certificate in any of eight specialty areas. The MS in Foreign Service was the first such degree in the country and is one of the most popular, but the MA in Security Studies attracts the largest number of students and includes a part-time option.
Master's Degrees offered: See Program Directory
Receive School Information: See Request Info