2017 Graduate Education | International Affairs
THIS GUIDE IS NO LONGER ACTIVE. For the current FP Guide, click here.
The George Washington University, Elliott School of International Affairs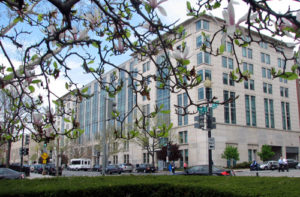 "International affairs programs attract a special breed of students. They care about the state of the world and want to fight the world's toughest problems," says Reuben E. Brigety II, dean of the Elliott School of International Affairs at The George Washington University (GWU). Located just steps away from the White House, the Elliott School prepares nearly 700 students each year for meaningful careers in international affairs.
"We believe that to solve many of the world's problems, we need to build leaders for the world," says Brigety, who sees ethics as a core component of strong leadership. "At the Elliott School, we are committed to excellence in teaching and to rigorous teaching of ethics."
An emphasis on ethics in the Elliott School's curriculum includes plans for a future summer Academy for Leadership, Ethics, and Practice. It's part of the goal of ensuring that Elliott School graduates are equipped to address ethical and leadership challenges in addition to having the other practical skills they will need for workplace effectiveness and career success.
Thirty-eight percent of graduates from the Elliott School's class of 2016 are working for government or multilateral organizations. Another 28 percent are employed by nonprofit organizations, and 27 percent are in the private sector.
Private sector employers include consulting firms, government contractors, financial services, and others. "International affairs can be an incredibly useful degree in the private sector," says Brigety.
The Elliott School offers an unusually broad curriculum, with more than a dozen different master's degrees that combine rigorous coursework with professional training. In addition to programs in development, trade and investment policy, security policy and more, the school also offers programs covering every region of the world: Asian Studies, European and Eurasian Studies, Latin American and Hemispheric Studies, Middle East Studies, and a new African Studies program set to begin in fall 2017.
All programs have an applied orientation, facilitated by the school's location in the heart of Washington, D.C. "We have the best location of any international affairs school on the planet," says Brigety. Master's degree classes at the Elliott School start at 4 p.m. or later to allow students to maintain a job or internship while also studying full-time, and many students do so.
With full-time work and study, students often have extremely busy schedules, and Brigety says that's part of learning the time-management skills their careers will demand. "Almost any job their studies lead to is incredibly demanding, so part of the master's degree program experience is learning how to manage the demands," he says.
Master's Degrees offered: See Program Directory
Receive School Information: See Request Info