2017 Graduate Education | International Affairs
THIS GUIDE IS NO LONGER ACTIVE. For the current FP Guide, click here.
University of Denver, Josef Korbel School of International Studies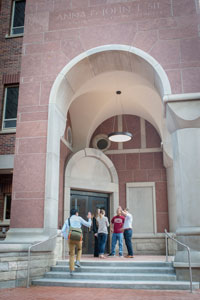 The University of Denver's Josef Korbel School of International Studies suits a wide range of students: It offers eight master's degree programs, a PhD program, certificate programs, and joint degrees. Students benefit from the resources of the University of Denver and appreciate the school's small classes, academic flexibility, and tight-knit campus community.
"We have programs that meet the needs of most types of students," says Ambassador Christopher Hill, dean of the Josef Korbel School since 2010. While the MA programs in International Studies, International Security and International Development continue to be the most popular, many students are attracted by the school's renowned MA program in International Human Rights and other programs.
Students may also pursue a joint degree or certificate combining international affairs with law, social work, and more. "We offer growing opportunities with other schools on campus, such as the engineering school, which has an increasingly entrepreneurial orientation," says Hill.
The Josef Korbel School's MA program in International Security offers a cutting-edge focus on 21st-century security issues, including questions of gender in politics and women in protest movements. A number of students work as research assistants at the school's Sié Chéou-Kang Center for International Security and Diplomacy.
The school is also home to the Frederick S. Pardee Center for International Futures, a leading resource in the field of global forecasting. Several dozen students work at the Pardee Center, which focuses on long-term, integrated analysis of development, security, and sustainability issues. Its International Futures (IFs) model uses analysts' best understanding of global systems to produce forecasts for nearly 200 countries to the year 2100. It is the most sophisticated and comprehensive forecasting modeling system available to the public.
Most degree programs at the Josef Korbel School require an internship, and the school offers help with finding it, making it affordable, and more. "Increasingly, internships are a springboard to another job, and more and more internships are paid," observes Hill.
Nearly a third of Josef Korbel School graduates pursue careers in Washington, D.C., but almost half of this year's graduating class has remained in Colorado. "Denver is becoming a destination city," says Hill. In addition to attracting growing numbers of businesses and corporations, Denver is ranked first among U.S. cities for nonprofits per capita and is the third-largest federal employer.
The Josef Korbel School participates in the Global Security and Development program in Washington, D.C., which involves a combination of coursework and supervised internships.
"We also bring Washington to our campus," says Hill. Former U.S. Vice President Joe Biden spoke on campus last year. Other speakers have included Madeleine Albright, the first female secretary of state, whose father, Josef Korbel, is the school's founder, and alumna Condoleezza Rice, the 66th U.S. secretary of state. Gen. George W. Casey Jr., former chief of staff of the U.S. Army and a Korbel alumnus, teaches a two-week course at the Josef Korbel School each year.
Master's Degrees offered: See Program Directory
Receive School Information: See Request Info