2017 Graduate Education | International Affairs
THIS GUIDE IS NO LONGER ACTIVE. For the current FP Guide, click here.
UC San Diego, School of Global Policy and Strategy (GPS)
UC San Diego's School of Global Policy and Strategy (GPS) attracts students who want to help solve global challenges. "Most of our students come with a desire to serve the world in some capacity, but they aren't sure how to go about doing it," says Emilie Hafner-Burton, the school's John D. and Catherine T. MacArthur Professor of International Justice and Human Rights. "We provide them with the methodological tools to answer that challenge."
A distinguishing feature of GPS is its methods training. "Our programs require quantitative and analytic rigor," says Hafner-Burton. The school's two-year master's degree programs have a required core curriculum that includes rigorous courses in quantitative methods. Students take two basic courses in statistical reasoning and analysis, and they learn to use software tools to help solve real-world challenges.
"It's pretty powerful," says Hafner-Burton. "The faculty is composed primarily of political scientists and economists trained to be on the ground analyzing real-world problems. Our faculty members have very much of an applied orientation. Like our students, they also want to serve the world in some capacity."
GPS students become adept at analyzing data and using data analysis for purposes such as impact evaluation of a development project. They also take required courses in policy, economics, international business, and politics and choose from a large selection of electives.
The school's long-established Master of International Affairs program focuses on the Americas and Asia. Students select a functional career track and a country or region of specialization: China, Japan, Korea, Latin America, or Southeast Asia. They must also become proficient in the language of their selected country or region.
The Master of Public Policy (MPP) program focuses on U.S. policymaking within a global context. Through rigorous training and analysis of public policy, it prepares students with the skills needed to compare best practices for policymaking in the U.S., Latin America, Asia, and beyond. Specialization options are tied to areas of growing demand, such as environmental policy, business, health, and security.
Launched in 2017, the Master of Chinese Economic and Political Affairs program engages GPS students in work with UC San Diego's world-class community of China scholars on in-depth studies of key issues pertaining to contemporary China.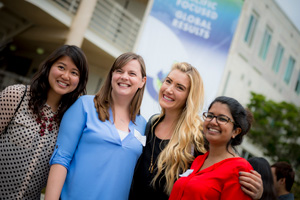 In addition to the two-year master's degrees, GPS offers a one-year executive education program, the Master of Advanced Studies in International Affairs (MAS-IA), with full-time and part-time options.
About 50 percent of GPS students are international. "The diversity is an amazing pedagogical advantage," says Hafner-Burton. A given class might include, for example, a Pakistani police officer, a Mexican journalist, and a 22-year-old from Thailand. GPS attracts top students from countries such as China, Brazil, and Mexico, and continues to build strong alumni networks around the world.
GPS also offers a strong financial aid program and accessible faculty. Many seminar courses have fewer than 25 students. "Being in a position to help save the world in some capacity requires a series of choices in graduate school," says Hafner-Burton. "We are here to help students reach their goals."
Master's Degrees offered: See Program Directory
Receive School Information: See Request Info