2019 Applying to Grad School in International Affairs
THIS GUIDE IS NO LONGER ACTIVE. For the current FP Guide, click here.
UC SAN DIEGO, SCHOOL OF GLOBAL POLICY AND STRATEGY (GPS)
UC San Diego's School of Global Policy and Strategy (GPS) has become the policy hub for a campus known for its work in science, technology, engineering, and math, also known as STEM.
GPS is increasingly hiring STEM faculty, and its programs emphasize rigorous, data-driven analytics based in economics, advanced statistics, and related fields, taking a systematic approach to program design and evaluation—whether in human rights, sustainable energy, or other areas. So, in addition to seeking students with more traditional educational or professional backgrounds related to international affairs, the school welcomes students with undergraduate STEM degrees who are pivoting toward policy and international work.
About half of the degree-seeking students at GPS come from outside the United States, offering unique opportunities for interaction and mutual learning experiences with other students as well as faculty. The school attracts many students from the diverse state of California, as well as applicants with significant experience working in Washington, DC, or other world capitals.
"The value that work experience brings to the application is the perspective it gives an applicant on the purpose of graduate studies," says Director of Admissions Sonja Steinbrech. There's no minimum work experience requirement for the two-year master's degree programs, but "professional work allows a focus and an appreciation for the classroom experience that is hard to gain otherwise," Steinbrech says.
Candidates for the two-year master's programs have a wide range of work experiences, from serving in the Peace Corps or AmeriCorps to working for private companies, government, or the military in the United States or abroad.
The school's executive degree program, the Master of Advanced Studies in International Affairs, requires five years of full-time professional experience, though students in the program have worked an average of 10 years in government, military, nonprofit organizations, and the private sector.
Successful applicants to GPS, which celebrated its 30th anniversary last year, have a passion for international affairs, an open mind, and innate curiosity.
"They are ready to take a deep dive into quantitative-methods training, while at the same time exploring the breadth of contemporary challenges in policy implementation," Steinbrech says.
Candidates submit either GRE or GMAT scores for the two-year programs, and the admissions committee evaluates those scores in conjunction with their academic records and a series of subjective factors. The Master of Advanced Studies in International Affairs does not require an entrance exam.
Three letters of recommendation are required, including at least one that addresses the prospective student's performance in the classroom and suitability for the planned course of study, and two others from someone, especially a supervisor, who knows the applicant well.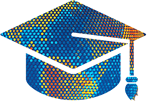 Graduate Degree Program Options
• Master of International Affairs (MIA)
• Master of Public Policy (MPP)
• Master of Chinese Economic and Political Affairs (MCEPA)
• Master of Advanced Studies in International Affairs (MAS-IA)
• PhD joint program, International Relations and Political Science
Deadlines for Fall 2020
Application: January 15, 2020, for master's programs; December 10, 2019, for PhD joint program
Financial aid: January 15, 2020
Standardized Exam Scores: GRE or GMAT required (except for MAS-IA program)
Recommendation Letters: Three required
Application Checklist: https://gps.ucsd.edu/admissions/applying.html
Visit the Request Info page to receive more information.